Avon Grove Sun, February 12 - 18, 2009
Personal Trainer Releases New Book
By Chris Barber
For personal trainer Linda Jassmond Lanfear of Jennersville, getting in shape is a journey. With that in mind, she has published her first book, "Journey to Fitness," and is hoping it will be an inspiration to women who want to lose weight and get healthy. On Monday she was at the YMCA in Penn Township with a table full of her books and a client, Katherine Kuroczko, who helped her get the book published and who had also lost 34 pounds under the author's tutelage.
In the book, Lanfear takes the reader through the journey of a woman she calls "Suzanne" as she shapes up and changes her eating habits. She said she tries to craft programs for her clients that they are able to use.
Kuroczko, described her own journey to weight loss and better health. She said she told Lanfear she didn't want to give up her favorite foods, nor did she want to sweat. Yet with portion control and a walking program, she is achieving her goals.
Lanfear has been teaching Pilates and kick boxing at the Y for 10 years, and has been teaching overall for 25. She said she wants to write more books, based on the experiences of other women's successes.
For more on Lanfear go to www.FitnessLinda.com.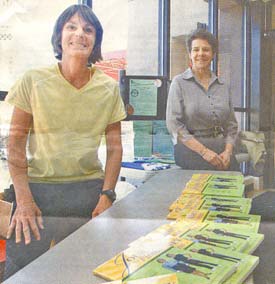 Linda S. Jassmond Lanfear, left,
with Katherine Kuroczko.